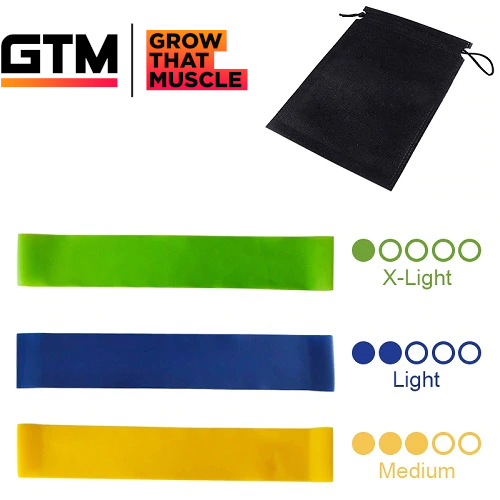 Set of 3 Resistance Bands Latex Gym Strength Training Extra Light, Light, Medium
SKU 1001
Product Details
If you're looking to an inexpensive way to workout at home or office, resistance loop bands are the answer. Resistance loop bands are convenient to use that you can use them wherever you are, carry them in your purse, backpack or briefcase.
Especially if you travel, these fold up to a small space and are very versatile.
The bands are made of high quality latex that allows a full range of motion to increase muscle flexibility and blood circulation.
With these resistance loops bands, they're a perfect introduction into getting fit without the cost. The bands that are included are extra light, light and medium so you can first work your way up and increase the difficulty.

This set is very light and easily portable, you can even fit in in your pocket! The bands are flexible enough to fit around your legs and arms, allowing you to complete full upper and lower body workouts anywhere.
Item Specifications
Length: 60cm
Width: 5cm
Material: Natural latex
SHIPPING
Please note that to keep our prices as low as possible for customers, we offer Free Shipping. Our warehouse can take between 12-21 business days for USA destinations. Canada locations can take 37-58 business days, if not sooner. United Kingdom is 20-40 business days, Australia 24-49 business days, New Zealand 14-25 business days.
Save this product for later